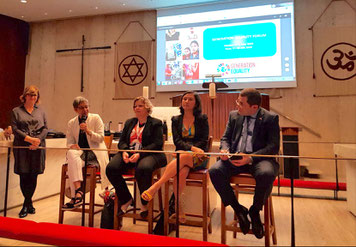 The monthly meeting of NGO CSW in New York had four speakers: (picture from right to left)
the Chair of UN Women 

H.E.Mr. Mher Margaryan

, Permanent Representative of Armenia to the UN

Delphine O

, Secretary General for the UN Women's Global Forum

Dr. Nadine Gasman Zylbermann

, President, National Institute of Women

Lopa Banerjee

, Director of the Civil Society Division UN Women
The meeting was mostly an information about the CSW 64 and the review process of Beijing+25.
UN Women wanted to do the review process in a different way including all culture, ethnicites, religions and languages. Countries and NGO reports have been submitted and are available on the UN Women webpage. UN Women reached out to NGO CSW and asked them to collaborate in forming an advisory group which will reach out to the core group. All people interested will continuously be informed through the NGO CSW mailing list and the UN women webpage.
Lopa strengthened that UN Women were getting impatient as up to now no country has achieved gender equality. Therefore, a special effort is necessary to move equality forward.
Delphine O and Dr. Nadine Gasman Zylbermann informed about the Generation Equality Forums which will be held in Mexico on May 7 to 8 and culminate in an additional Forum in Paris on July 7 to 10. The Paris meeting was an initiative of President Macron. Both events will be launched at the General Assembly 2019 of the United Nations. Both events will be inclusive, all parts of Civil Society can participate, not only ECOSOC accredited organizations. The Fora will be inter-sectional and inter-generational. UN Women will fund some people who could otherwise not attend.