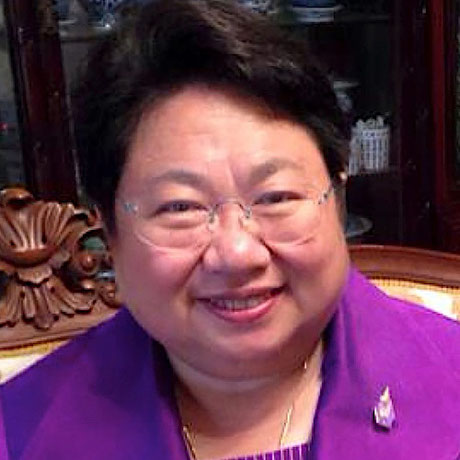 Viravan, Chonchanok
BPW Thailand
Past President BPW International
Thailand
---
---
Representative
UNESCAP Bankok Representative 
---
---
Dr. Chonchanok Viravan served as BPW International President (2005-2008), BPW International Vice President for United Nations (2002-2005), Asia-Pacific Regional Coordinator (1999-2002), representative to UNESCAP (1996-2008, 2014-present) and Chair of Adjudicators for BPW Power to Make a Difference Awards, formerly Beyond 2000: Helping Women Help Themselves(1999-present). She advocates for Gender Budgeting, Green Growth Strategies, STEM for Education and Sustainable Financial Development.
Her recent awards include Lena Madesin Phillips Award(2017) and Badge of Honour Award(2014) from BPW International for her women empowerment work; Award forHonorable Individual who supports BPW Thailand's National campaign to improve financial discipline(2018);Outstanding Woman of Thailand on International Stage (2006) from Ministry of Social Development and Human Securities. She was also named 1 of 20Women Who Make a Difference(2011) from Thailand Tatler Magazine for her contribution to National IT policy. 
Her Ph.D. in Computer Science, strategic and artistic skills support her former roles as Head of Software Lab at National Electronics and Computer Technology Center, Ministry of Science and Technology; Assistant to the Prime Minister and Vice President for e-Business at Bank of Asia.  She is currently the President of Pathanasomdoon Company Limited, which manages Real Estates and conducts communication training.