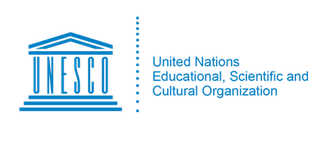 ---
BPW Representatives
---
---
Headquarter
---
Internet
---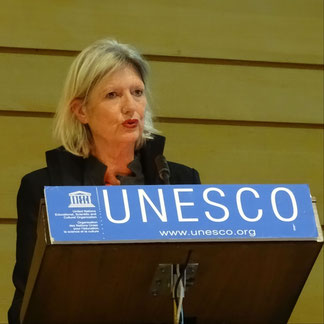 Marie-Claude Machon-Honoré
Presidency Speech
Marie-Claude Machon-Honoré was previously elected as member of the NGO-UNESCO Liaison Committee on behalf of IFBPW (December 2016-2018) and is a member of the Collective Consultation of NGOs coordinating group  on Education (CCNGO/Education2030). In December 2018 she was elected as Chair of the International Conference of NGOs and President of  the NGO­-UNESCO Liaison Committee.
UNESCO is the United Nations Educational, Scientific and Cultural Organization. It seeks to build peace through international cooperation in Education, the Sciences and Culture. UNESCO's programmes contribute to the achievement of the Sustainable Development Goals defined in Agenda 2030, adopted by the UN General Assembly in 2015.
Political and economic arrangements of governments are not enough to secure the lasting and sincere support of the peoples. Peace must be founded upon dialogue and mutual understanding. Peace must be built upon the intellectual and moral solidarity of humanity.
In this spirit, UNESCO develops educational tools to help people live as global citizens free of hate and intolerance. UNESCO works so that each child and citizen has access to quality education. By promoting cultural heritage and the equal dignity of all cultures, UNESCO strengthens bonds among nations. UNESCO fosters scientific programmes and policies as platforms for development and cooperation. UNESCO stands up for freedom of expression, as a fundamental right and a key condition for democracy and development. Serving as a laboratory of ideas, UNESCO helps countries adopt international standards and manages programmes that foster the free flow of ideas and knowledge sharing.
---
News
---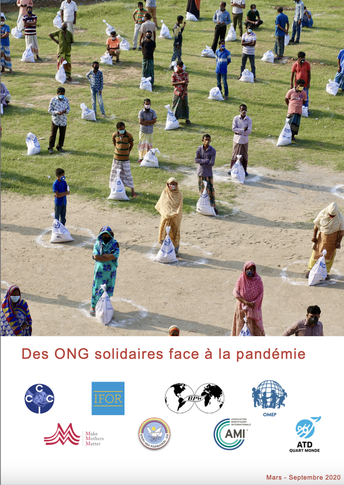 Des ONG solidaires face à la pandémie
Invitation à une réunion de présentation du rapport sur le projet solidarité d'ONG partenaires de l'UNESCO pour lutter contre la pandémie.

Aux représentants des ONG partenaires de l'UNESCO,

Au printemps 2020, en début de pandémie et devant la catastrophe humaine qui s'annonçait, un groupe d'ONG partenaires a décidé en toute transparence et ponctuellement de mutualiser les remontées d'information du terrain et de soutenir les associations locales.

Ce projet a donné lieu à un rapport qui met en avant le formidable élan de solidarité mondial de la société civile et la force de proposition des ONG pour définir des futures priorités post-COVID. Ce rapport a reçu un très bon accueil de la part de la Directrice générale et le projet bénéficie par ailleurs du soutien de M. J. Y. Le Saux et du secteur SHS qui a écrit et publié un article sur le site UNESCO. (en anglais).

Vous pouvez télécharger le rapport du projet ici.

C'est ce rapport de solidarité qui témoigne du dynamisme du partenariat entre ONG et avec l'UNESCO dans différents pays face à des situations inédites que nous souhaiterions vous présenter lors d'une rencontre virtuelle par zoom

le 10 mars 2021 à 12h CET

Lien pour le zoom : https://us02web.zoom.us/j/83725060818?pwd=Y05KMWdhLzlCdGdJcWdFODh0WGxMZz09 - ID de réunion : 837 2506 0818 - Code secret : 011620

Merci de confirmer votre présence à l'adresse mail ci-dessous.
Dans cette attente, prenez soin de vous et de vos proches.


Lisbeth Gouin, Organisation Mondiale pour l'Education Préscolaire
Marie Claude Allez, Mouvement International ATD Quart Monde
France Marquet, South Asia Foundation
Gabrielle de Milleville, Make Mothers Matter
Christine Roche, Centre Catholique International de Coopération avec l'UNESCO
Marie-Claude Machon-Honoré, Business and Professional Women International
Victoria Barrès, Association Montessori Internationale
Maria Antonietta Malleo, International Fellowship of Reconciliation
Site du projet : https://www.reseausolidariteong.com/
Contact mail : solidarityproject.ngos@gmail.com
"World Tales" short story competition
UNESCO and Idries Shah Foundation launch "World Tales" Short Story Competition.
Extension of deadline for submission:
31 December 2020 at midnight (CET).
SAVE OUR FUTURE - EDUCATION & THE MOST VULNERABLE #LIVELOVELEARN
This week's  SAVE OUR FUTURE' s theme is Education & the Most Vulnerable.
#LiveLoveLearn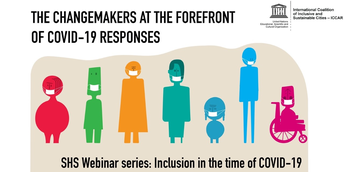 Series of international webinars addressing racism, discrimination and exclusion
"Inclusion in the time of COVID-19"
Fifth edition: Thursday 14 May 2020 from 16:00 to 17:30 CEST
Speakers
H.E. Ingjerd Schou

 (Vice President of the Storting, Norway)

Nandita Das 

(Artist andFilmmaker, Member of the International Jury for the 2018 Edition of the UNESCO-Madanjeet Singh Prize for the Promotion of Tolerance and Non-Violence)

Ayfer Yazkan Kubal

 (

Municipality Councillor and Head of EU and External Relations, City of Kadiköy, Turkey)

Yvonne Aki-Sawyerr 

(Mayor of Freetown, Sierra Leone)
Moderator
Juan Pablo Ramirez-Miranda 

(UNESCO)
Password: 205995
Register in advance here to save the webinar in your calendar.
Language of the event: English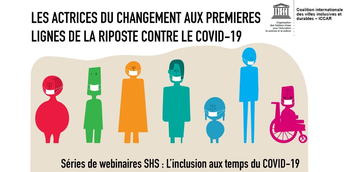 Série de webinaires internationaux contre le racisme, la discrimination et l'exclusion
« L'inclusion aux temps du COVID-19 »
Cinquième édition : Jeudi 14 mai 2020 de 16h00 à 17h30 UTC+2
Intervenantes
S. Exc. Ingjerd Schou

 (Vice-présidente du Storting, Norvège)

Nandita Das 

(Actrice et réalisatrice, membre du Jury international de l'édition 2018 du Prix UNESCO-Madanjeet Singh pour la promotion de la tolérance et de la non-violence)

Ayfer Yazkan Kubal

 (

Conseillère municipale et responsable des relations extérieures et avec l'UE, Ville de Kadiköy, Turquie)

Yvonne Aki-Sawyerr 

(Maire de Freetown, Sierra Leone)
Modérateur
Juan Pablo Ramirez-Miranda 

(UNESCO)
Mot de passe : 205995
Enregistrez-vous ici en avance pour noter le webinaire dans votre calendrier.
Langue de l'événement : anglais

---
40th General Conference of UNESCO, Speech by Marie-Claude Machon-Honoré, Chair of the NGO Liaison Committee; Nov 16, 2019
40th General Conference of UNESCO, Nov 16, 2019
Declaration for International Federation of Business and Professional Women, read by Nathalie Mourrain, BPW Paris
---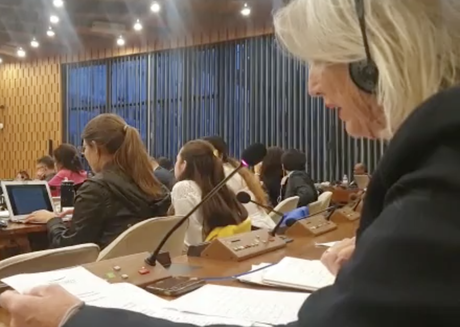 Speech by Marie-Claude Machon-Honoré, Chairperson of the ICNGO and UNESCO-NGO Liaison Committee, at the Executive Board-Item 11, October 18, 2019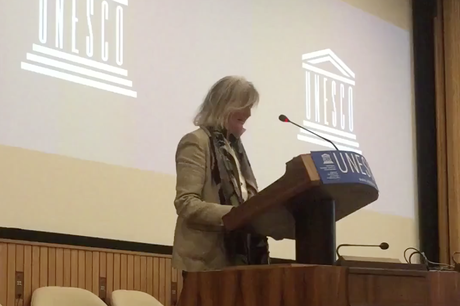 Speech by Marie-Claude Machon-Honoré, Chairperson of the ICNGO and UNESCO-NGO Liaison Committee, at the NGP Committee, October 11, 2019
---

UNESCO King Hamad Bin Isa Al-Khalifa Prize
(ICT in Education Prize)
Please allow me to remind you that the 2019 call for nominations is currently running  until 31 October 2019 (midnight, Paris time).
We would be very pleased if in 2019, your organization in official partnership with UNESCO would again present candidates for the Prize, endowed with US $50,000 divided between two recipients.
The theme of 2019 Prize is The use of Artificial Intelligence to innovate education, teaching and learning.
For more detailed information on eligibility criteria, submission and nomination process, please see the Flyer attached and visit UNESCO ICT in education Prize webpage
We would very much appreciate your support in sharing the announcement widely on your websites and through your social media channels, and encouraging relevant stakeholders doing good work in the area of ICT in education to apply.
Let us know if you are interested in nominating a project/programme for the Prize, and don't hesitate to get back to us atictprize@unesco.org if you need further clarifications.
Thank you very much in advance for your consideration and cooperation.
Secretariat of the UNESCOKing Hamad Bin Isa Al-Khalifa Prize for the use of ICT in Education
Unit for ICT in Education 
---
ONG et comité de liaison ONG/UNESCO à Tunis : la Vie des 4 jours
NGOs and NGO/UNESCO Liaison Committee in Tunis: Life of the 4 Days
A video on interviews made during the international NGO-UNESCO forum in Tunis, Tunisia, on migration. Dr. Catherine Bosshart participated and spoke on migration, Marie-Claude Machon-Honoré spoke of BPW and women for peace (after 4' ), while moderating a workshop on education and migration.
Video from December 12, 2018
---