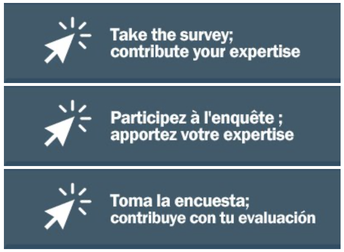 Dear NGO Representatives
Please find below a survey on behalf of the United Nations Research Institute for Social Development (UNRISD).
Evidence for Transformative Change: UNRISD Survey on Responses to Covid-19 and Vulnerable Communities (enquête aussi disponible en français, encuesta también disponible en español)
Evidence for Transformative Change: UNRISD Survey on Responses to Covid-19 and Vulnerable Communities
The Covid-19 pandemic is hitting vulnerable people the hardest. This is already devastating in high-income countries with comprehensive and effective health and welfare systems, but it may well be catastrophic in those without, and especially in low-income and least developed countries. At the same time, these are areas where typically infection rates are currently lower and policies are still taking shape, creating a window of opportunity for informed analysis to provide added value.
This is where UNRISD's survey comes in. With the help of its global network of experts, UNRISD hopes to gather and quickly analyse how well current government policies on Covid-19 in all countries and regions are responding to the needs of vulnerable people. The result will be evidence-based recommendations on how governments can make sure their Covid-19 response policies leave no one behind, while at the same time bearing in mind that there can be no one-size-fits all answers; national and local government policy making in different regions must also respond to different social, economic, political and cultural contexts.
UNRISD is asking you to donate 15 minutes of their time to respond to our 12-question survey. Click on the button below to make your contribution:
UNRISD is able to make the survey available in English, French and Spanish. We welcome responses in all languages, however. If you wish to take the survey in a different language, we invite you to use a web-based translator to render the questions in your preferred language.
We look forward to reading your responses and thank you in advance for your help in the co-creation of a contribution based on local knowledge, cross-country comparative analysis, and solid research expertise. All of these have a critical role to play in steering us through the crisis, guiding decision makers in uncertain times, and helping build better systems for the future.
P.S. You may also be interested in our Covid-19 blog series, which draws on the Institute's social development research to suggest evidence-based responses to the current crisis: www.unrisd.org/covid-19-series
You can also check out our social media cards with findings from past research that can inform policy and practice decisions going forward. Feel free to retweet them or use them in your own feed tagging @UNRISD
Réunir les preuves pour un changement porteur de transformation : Enquête de l'UNRISD sur les  communautés vulnérables face aux réponses apportées à la pandémie du Covid-19
La pandémie de Covid-19 frappe le plus durement les personnes vulnérables. Les effets, déjà dévastateurs dans les pays à revenu élevé dotés de systèmes de santé et de protection sociale efficaces, pourraient être catastrophiques dans ceux qui n'en sont pas dotés, et en particulier dans les pays à faible revenu et les pays les moins avancés. En même temps, il s'agit de régions où les taux d'infection sont actuellement plus faibles et où les politiques sont encore en train de prendre forme, ce qui crée une fenêtre d'opportunité pour une analyse éclairée qui apporte une valeur ajoutée.
C'est là qu'intervient l'enquête de l'UNRISD. Avec l'aide de son réseau mondial de chercheurs-euses, UNRISD espère recueillir et analyser rapidement des informations indiquant dans quelle mesure les politiques gouvernementales actuelles en relation avec le Covid-19 dans tous les pays et régions répondent aux besoins des personnes vulnérables. Il en résultera des recommandations fondées sur des données empiriques sur la manière dont les gouvernements peuvent s'assurer que leurs réponses au Covid-19 ne laissent personne pour compte. Cependant il ne peut y avoir de réponse unique s'appliquant à toutes les situations; les politiques des gouvernements nationaux et locaux dans les différentes régions doivent également tenir compte des différents contextes sociaux, économiques, politiques et culturels.
L'UNRISD vous demande de donner 15 minutes de votre temps pour répondre à notre enquête, qui comporte 12 questions. Veuillez cliquer sur le lien ci-dessous pour y accéder et partager votre expérience:

L'enquête est disponible en anglais, français et espagnol. Toutefois, les réponses dans toutes les langues sont les bienvenues. Si vous souhaitez répondre à l'enquête dans une autre langue, nous vous invitons à faire appel à un traducteur sur Internet pour traduire les questions dans la langue de votre choix.   
C'est avec grand intérêt que nous attendons vos réponses. Nous vous remercions d'avance pour votre aide dans la co-création d'une contribution fondée sur les connaissances locales, l'analyse comparative entre pays et une solide expertise en matière de recherche. Tous ces éléments ont un rôle essentiel à jouer pour nous guider à travers la crise, pour conseiller les décideurs en période d'incertitude et pour aider à construire de meilleurs systèmes pour l'avenir.  
P.S. Notre série de blogs sur le Covid-19 pourrait aussi vous intéresser. Ces articles s'appuient sur les recherches de l'Institut en matière de développement social pour proposer des réponses à la crise actuelle fondées sur des preuves: www.unrisd.org/covid-19-series
Consultez également nos réseaux sociaux, où nous présentons les résultats de recherches antérieures susceptibles d'éclairer les décisions politiques et pratiques actuelles. N'hésitez pas à les retweeter ou à les utiliser dans votre propre flux, en taguant @UNRISD 
Evidencia para el cambio transformativo: encuesta de UNRISD sobre respuestas al Covid-19 y comunidades vulnerables
La pandemia del Covid-19 golpea con mayor fuerza a personas vulnerables. El impacto ya es devastador en países de ingresos altos y que tienen sistemas integrales y efectivos de salud y de bienestar social, pero puede ser catastrófico en países que no los tengan, especialmente en países de ingresos bajos y aquellos menos desarrollados. Al mismo tiempo, es allí donde las tasas de infección son actualmente más bajas y las medidas y políticas aún están tomando forma, lo que crea una ventana de oportunidad para que el análisis informado proporcione valor añadido.
Es en este punto en el que la encuesta de UNRISD es instrumental. Con la ayuda de su red global de expertos y expertas, UNRISD espera recoger y analizar evidencia sobre cómo están respondiendo los gobiernos al Covid-19 en países y regiones con respecto a las necesidades de las personas en situación de vulnerabilidad. El resultado de la encuesta será un conjunto de recomendaciones basadas en experiencias localizadas sobre cómo pueden asegurarse los gobiernos de que sus medidas no dejen a nadie atrás, reconociendo en cualquier caso que no puede haber una única solución para todas las preguntas. La toma de decisiones en materia de políticas, tanto a nivel nacional como local, debe además responder a contextos diversos en lo económico, social, político y cultural.
UNRISD le pide a sus lectoras y lectores donar 15 minutos de su tiempo para responder nuestra encuesta, que consta de 12 preguntas. Por favor haz clic en el enlace para contribuir con tu experiencia:

UNRISD ha dispuesto la encuesta en inglés, francés y español. No obstante, recibiremos respuestas en todos los idiomas que sean enviadas. Si deseas completar la encuesta en un idioma diferente, te invitamos a usar un traductor confiable en línea que permita trasladar las preguntas al idioma de tu preferencia.
Esperamos tu respuesta y te agradecemos desde ya tu contribución en la cocreación de un análisis basado en conocimientos locales, estudios comparativos entre países y experiencias de investigación de alto nivel. Todo lo anterior juega un papel fundamental para guiarnos durante la crisis, para informar la toma de decisiones en momentos de incertidumbre y para ayudar a construir mejores sistemas en el futuro.
PD. Quizás también te interese nuestra serie de blogs sobre Covid-19, que recoge investigaciones del Instituto en materia de desarrollo social para sugerir respuestas basadas en evidencia científica a la crisis actual.
www.unrisd.org/covid-19-series
También te invitamos a pasarte por nuestras redes sociales, donde hemos compartido resultados de investigaciones previas que podrían contribuir al diseño y la implementación de medidas en respuesta al Covid-19. Puedes retuitearlas o usarlas en tu propia cuenta de Twitter con el tag @UNRISD
contact

United Nations Research Institute
for Social Development (UNRISD)
Palais des Nations
1211 Geneva 10, Switzerland
Tel: +41 (0)22 917 3020
E-mail info.unrisd@un.org